About Cordia at Grand Traverse Commons

Mission
Cordia is committed to creating opportunities for seniors to continue to lead meaningful lives.
Core Values
Our most important relationships are with our Club Members. Their satisfaction is the driving force behind every decision we make. Our goal is to listen, deliver solutions and enrich lives, one member at a time.
We recognize that our high-caliber investors have a substantial stake in our success. Good financial performance is an important business goal, but we will never sacrifice long-term success in favor of short-term profits.
Our employees are our most important resource. We are committed to providing a work environment that promotes teamwork, supports personal growth, encourages creativity and recognizes individual contributions.
Our business is built on a foundation of integrity and respect. We believe in open communication with our members, investors, partners and employees; and we are committed to building relationships that respect our collective interests.
Founder's Message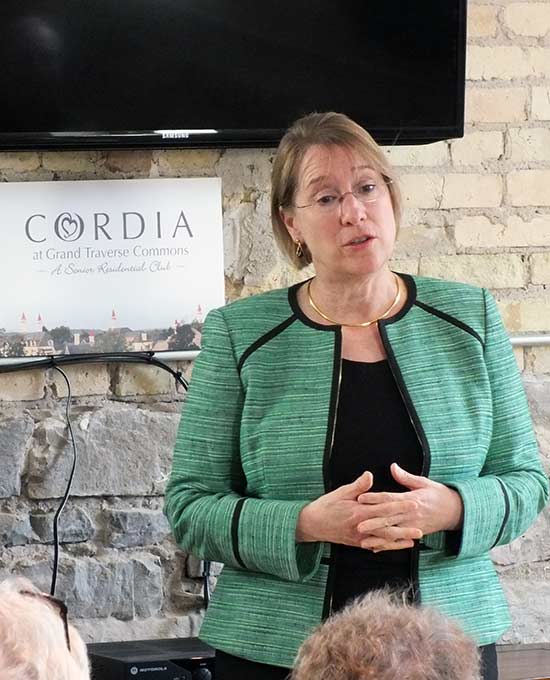 At every age a meaningful life demands connection and engagement with people we admire and respect, individuals with whom we form part of a vibrant community. Though community connections become harder to spark and maintain as we get older, our need for these key relationships does not diminish. Without the positive influence of community most of us simply exist – we fail to thrive. At Cordia we believe that by focusing on the steps that build a strong community, we create pathways that all Members can journey toward maintaining and creating meaningful friendships.
After the power of community, nothing does more to keep us healthy and thriving than a balanced approach to wellness. The Cordia lifestyle works to stimulate and support each Member's quest for improved well-being. Five pillars support our approach to wellness: Intellectual Activity, Physical Strength, Spiritual Connection, Cultural Enrichment and Emotional Balance. Our sophisticated programming approach alongside our strong community foundation ensures that every Member has ample opportunity to maintain and improve his or her own wellness.
No one wants to live institutionally. At Cordia we are committed to working each day to develop better ways to support seniors' desire to be safe while at the same time remaining independent and we strive for better ways to provide the warmth and intimacy of home combined with the comfort of being surrounded by an engaged group of friends. Over the last two decades we at Cordia have worked to build communities that nurture the mind, spirit and body -where seniors can engage in meaningful pursuits, build strong and powerful friendships, improve their overall health and well­being and enjoy hospitality services such as fine dining, concierge and spa services, and outstanding programming. Our residential club environment is particularly well-suited to entertaining family and friends and provides an easy pathway to forging new relationships.
We encourage you to come to the Club and learn more about us. Forget all you think you know about "those kinds of places". The more you come to know us the likelier you are to develop a changed view of the lifestyle you will enjoy in a Cordia senior community. Good days and times are still ahead for you. Don't delay the opportunity to continue to live a meaningful life.